Experts Predict Wedding Trends For 2008
A lot of excitement is generated around planning a wedding, especially when it comes to the
bride
's gown, the
bridesmaids
' dresses and don't forget the adorable flower girls.
From asymmetrical to A-Line, you want to create a new look that is uniquely yours. To help you in your choices, we have invited three
experts
to give us their opinions: Melody Smith, National Sales Manager and Design Team Member with Essense of Australia, Jennifer Kncolowski, Marketing Representative of Jasmine Bridal and Lynn Rohrman, Head of Design for
Emerald Bridal
.
Bridal Dress Q: What do you see changing with the bride's dress for late spring into fall and the holidays?
A:I think that strapless will still be the main selling feature for bridal gowns, but I believe we will see more of an introduction of sleeves into wedding gowns and smaller A-Line styles. Brides want the option of button in sleeves and removable jackets to create two versatile looks for the wedding and reception at a most cost-effective price than buying two gowns.~MS

Q:Do you see any style changes?
A:At Essense we have introduced more sheer illusion necklines (see styles D712 and D694). Both still give the illusion of skin showing but are extremely romantic using the illusion fabric and embroidering it with lace. We definitely have added more addition of pleating into gowns (see style D683) to add a modern touch to an otherwise traditional gown. Brides still love lace, but used in new and innovative ways. Our style D714 shows the lace being used in a scalloping effect in the front to created an apron skirt look. This style also looks great with a fun sash added to the waist.~MS
A:Fortunately for today's brides, there is more variety in styles now than at any other time. From elegant ball gowns to hourglass silhouettes, from heavily beaded traditional dresses to flowing organza's, there is a style for every personality and body type. I believe that a bride-to-be should go with her heart when choosing her wedding gown! While every young woman wants to look her very best, it is more important that she feels the way she has always dreamed of, whether that is elegant, sexy or like a princess. This is why I encourage future brides to try on different styles of dresses. Then, when she puts on that one special dress that makes her eyes light up, that's the one - the magical, wondrous gown of her dreams. And it doesn't matter if it is what she thought she would wear, or even if it is what her best friend or mother thinks she should wear. The gown that makes her happy is the most important part of her wedding day other than marrying the man of her dreams. ~LR

Q: Is there anything unusual on the horizon?
A: I've seen some hi-low looks introduced that have a real 80s feel to them. I'm not sure that is for everyone though! I think we will really be taking a step back to a more romantic look in bridal. The introduction of the Souffle or pick-up skirts a few years ago really started preparing us for that look. ~MS

Q: Want to make any predictions for 2008?
A: When I am at trunk shows, brides seem to be all about making a look unique and their own. Whether that's introducing color into the gowns or adding custom sashes to a gown, I really think brides want a personalized look. I think brides are making more of the wedding itself personal, with monogrammed items and showing the bride and groom's personalities by choosing favorite foods or accents for their wedding. I've even seen brides dying the crinoline/petticoat under their dress their favorite color.~ MS

Q: What colors seem to be the most popular?
A: Currently, the trend is for vivid citrus colors, showing in solid or two tones, such as bright greens, pale yellows, and dazzling pinks, as well as dramatic oceanic hues like azure or vibrant turquoise.~JK

A: Chocolate colored accents seem to be the color that I hear about most often, but I believe we will see more of the jewel tones in bridesmaids like aubergines, dark teals and royal blues-think peacock feathers. Black is always a safe bet with bridesmaids--that gives an elegant touch to any wedding.~MS

Q: Do you see any style changes?
A: Bridesmaid gowns no longer need to look like the characteristic styles that you've seen in the past. Fashion is moving forward by creating fresh looks based on the old Hollywood sparkle of yesteryear. Gowns that could walk the red carpet are all the rage, whether it's an alluring full length gown or a sophisticated T-length, glamour has made a huge comeback.~ JK
Q: Is there anything unusual or surprising on the horizon?
A: Taffeta and lace along with illusion necklines and delicate shirred sleeves are coming back big for this season. Also, we no longer see Brides insisting their party wear the same gown, but instead letting them choose the look that best suits their own personal style and body type, all in the same colors or hues.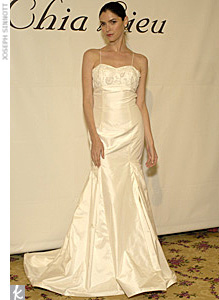 Experts Predict Wedding Trends For 2008