Black Wedding Dress – Why Not?
The idea of a black wedding dress might make some women cringe, but to an unconventional bride-to-be, a black wedding gown could be "the one." Contrary to popular belief, you don't have to be Goth to look and feel great in a darker dress on the big day – but it is easy to go overboard. Here are some great tips and suggestions on how to totally rock your black wedding dress without going over the top.
Mix it with white. The best way to incorporate black in a wedding dress is to pair it with a classic white or even ivory. You can have more black than white or vice versa, but this way you'll look more "black tie" than Morticia Adams.
Nix the dark makeup. Sure, you want smoky eyes. Who doesn't? If you're looking into wearing a black wedding dress, however, dark eyeliner can make you look like something out of the graveyard. Go easy on the makeup for a fresh-faced, dewy look instead.
Avoid heavy fabrics. Black velvet simply screams Gothic teenager. If you're going dark, go with thinly layered chiffon or light satin instead of thick, heavy garments.
Consider a tighter fit. Drenching yourself in layer upon layer of black fabric will only make you look like a Gothic prom queen in your black wedding dress. Look for something with a streamlined fit or a tighter bodice with a flowing skirt. Try going for a blend between cocktail dress and traditional wedding gown.
Don't wear long sleeves. Enough said.
Wear minimal jewelry. If you were planning on wearing a huge Victorian-style necklace with your black wedding dress, you're better off with a simple pair of drop earrings. The focus is on your dress and you don't want to look cluttered. That actually goes for any dress with strong colors or a lot of detail.
These suggestions are, of course, not set in stone. That's why they're called suggestions. If you absolutely have your heart set on a corset style black wedding dress with a long velvet train, go for it. Just keep in mind that it's not hard to step into a black wedding gown and feel more like the bride of Frankenstein than an actual bride. Use your best judgment and sense of style to avoid going too far while still keeping your flair for the untraditional at the top of the list.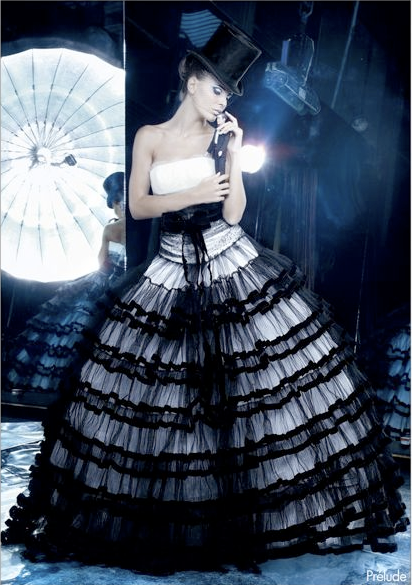 Black Wedding Dress – Why Not?