Helpful Tips On Picking A Strapless Wedding Dress
For those of you who are really self-confident above your body you may be thinking about have a wedding dress that is strapless. This will show off your skin color and tone much more than other styles. You need to ensure you arms, especially your triceps, are looking good because a straples dress will not cover anything up in this area.



Only For The Buff.



If you have short arms, you should avoid a strapless wedding dress because such a dress will make your arms appear even shorter. You should not be too skinny when you wear this dress because you will look too frail. If you are too top heavy, you will look like a football player.



Are Strapless Dresses Too Informal For You?



Strapless wedding gowns are not considered suitable for formal weddings because the gown is too revealing. Although, if you know what you want and it is to show off all your hard work at the gym and to make your future husbands eyes pop, then a strapless wedding dress can be right for you.

Before you choose a strapless wedding gown, you should know that some churches or other spiritual congregation buildings would not allow a bride to be married in a strapless gown.

A problem exists when being photographed in a strapless wedding dress and this is that unless you are standing perfectly still, the dress can be pulled by your movement to reveal wrinkles at the waist and a slipping bodice that can reveal more that what you want to reveal to your guests.

When you are going to try on strapless gowns, you will have better success at choosing the right gown if you bring along a strapless bra and shoes with the same heel height as the shoes that you will wear on your wedding day.

Take time to determine whether you would benefit from having extra boning in your dress as this will stop you having to move your dress back into position.

The dresss needs to be fitted so that it is not too tight to reveal fat bulges at the back of the dress or that it is too loose that it does not hug the chest enough.

I definately think that a mistake can be made with this dress style by making it appear too ostentatious. Keep it simple and add a choker, jewellery or gloves. A hairstyle that is tucked up can also look very nice.

I think that the stapless wedding gown can look very simple and yet very elegant and stunning at the same time but you need to take into account the considerations that I have highlighted in this article.


Strapless Wedding Dress
- with floral design on side focus -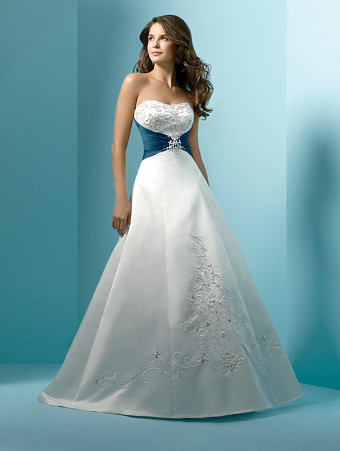 Helpful Tips On Picking A Strapless Wedding Dress