Beach Wedding Dress Tips
Getting married in the beach is a relative new idea and is gaining high degree of popularity worldwide. The beach wedding idea is far more informal as compared to the wedding at the church, before the Lord. If you stay somewhere in the coastal region, then it will never be too problematic to get a good place for wedding amidst the widely expansive beach and the eternal blue in front.

A whole day in the beach with all the special friends and relatives and most significantly with the person whom you have chosen to make the partner for your life is really an awfully awesome experience – especially when it your wedding day. Naturally, the clothing – the wedding dresses should also be in accordance to the theme of the wedding, since its quite natural that the sand, salt, dirt, water and wind are all in abundance alfresco in the beach and can spoil your expensive dress within a day.


The full-length formal or informal wedding gown may not be required as the beach wedding dress. The casual and sleek yet suave attire may prove to be more fruitful and will rather be a smart and brilliant choice. One may think that such an attire, especially on the wedding day, would spoil the day and all its glamour, but as a matter of fact, this can also be a distinctive style. The informal beach wedding dress is an entirely different concept and has a very unique style of its own. With the classy attire with some elegant designs and frills, with a halter and a strapless graceful sleeveless top any bride is bound to get a unique angelic beauty.

The beach wedding dress is generally very simple and hence demands a very casual hairstyle too. A simple stylized ponytail adorned by the flowers and the pearls is enough. The pearl, on the other hand, delivers as aesthetic match between the nautical ideas and the dressing fashion. A small stylized clasp of pearl to hold the hair is a very nice gesture to adorn a bride keeping right harmony the wedding theme. If you do not prefer to use the white pearl, there arte lot more options opened for you such as pink or yellow pearl sets.

The main reason why people choose the informal beach wedding dress is the price and theme fit. It is not really justified to incur such a high expenses associated with the formal and expensive wedding gowns that are used in case of the church wedding. The informal beach wedding dresses are far inexpensive than the formal ones with bells, adornments, whistles and etc and allow you creative space to plan for beach wedding favors and themed wedding ideas.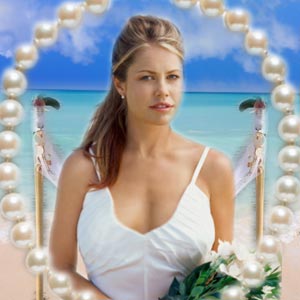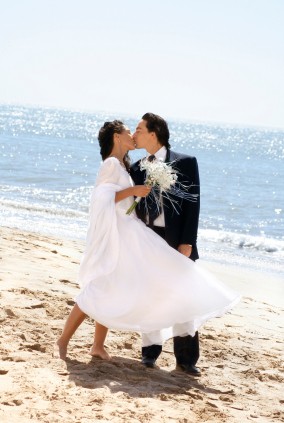 Beach Wedding Dress Tips